Manufacturers need to find ingredients that are in their natural state or as close to natural as possible, i.e., minimally processed. Then they are needed in the necessary quantity and format to fit industrial processing while being able to be listed on a label in a recognizable form. Yet these "simple" ingredients need to aid with shelf life, product mouthfeel and texture, appearance, structure and form, and in addition, act synergistically with the other simple, natural ingredients that will provide a successful acceptable and flavorful end product that will experience market success.
One company that conducted in-depth consumer research on consumer views of clean label found that there are three clear areas of consumer expectations; ingredients, nutrition and sustainability. However, a small segment of the population who are keenly interested in the product label regard even some 'natural' sweeteners, flavors and colors as undesirable. Fifteen percent of Millennials deemed 'natural flavors' as unacceptable in savory snacks.
As Kantha Shelke, Ph.D., adjunct professor at Johns Hopkins University in Baltimore and principal at Corvus Blue, food science research firm, stated in one article, "What is (considered) clean today might not be so tomorrow."
As ingredient lists continue to get shorter, sometimes packaging mimics the trend as well. Some companies, taking the clean label challenge literally, developed "minimalist packaging" to establish a presence in a market some feel is cluttered with claims and certifications. This simplified packaging can help strengthen brand identity as it cuts back on the callouts and badges, instead focusing on a "clean" label in terms of white space to emphasize the clean and simple ingredients and/or processing of the product within.
In its most recent report, Euromonitor stated a total of 1.2 billion tons of pure commodities were used in one year within food and drink applications, called "the purest of clean label ingredients in that they are widely recognized and generally held in high favor by consumers, e.g., eggs, fruit, nuts, juices, fish, meat, etc." It estimates the global value of the packaged foods' clean label category at U.S. $165 billion across 26 markets tracked. The three leading markets within this figure include North America ($67 billion), Europe ($59 billion) and China ($23 billion). The most persuasive claim remains one that says, "all natural" followed by "no artificial ingredients."
Clean Label CPG Category Value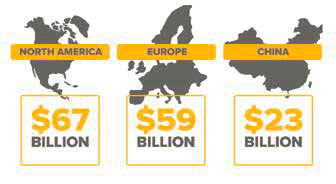 These ingredients, says The Hartman Group, could help with clean label product sales. Clean, natural and less processed foods, the group said at a conference last fall, are deemed high quality or premium, "in a culture that is increasingly focused on health and wellness." Consumers expect better ingredients but safe products as well. Ingredients that are healthy, nutritious and sustainable. Millennials are more likely to look for additional confirmation through claims and certifications, such as "organic" or "made with real ingredients." Ingredients are the most critical amongst these parameters, "with approximately 40 percent of consumers' perceptions influenced by specific ingredients." And overall, consumers prefer "recipe-like" ingredient lists.