It is well-known that the most environmentally-friendly and heathiest diets are heavy on grains, fruits and vegetables. Perhaps not so coincidentally, many traditional ethic foods also focus on this idea of "produce first"! From the well-researched Mediterranean diet to the cuisines of Asia and Latin America, traditional ethnic foods offer a myriad of flavor strategies to support cooking with lower amounts of animal-sourced ingredients and more ingredients sourced from plants.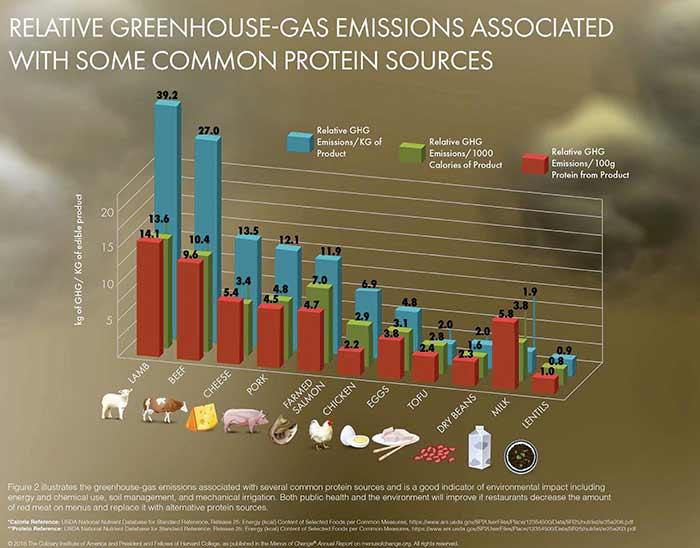 Raising livestock is expensive and produces an exponentially greater amount of greenhouse-gas emissions than growing plants. Animals raised for food must first have a lot plants grown to feed them, a lot of physical attention and time to mature. In turn, the amount of food an animal produces for human consumption is relatively little as compared to the same time and energy put toward farming produce and grains.
Leveraging globally inspired, plant-forward culinary strategies in your foodservice kitchen, moves the industry away from animal farming.
Scientific research suggests that the most effective way to help diners make healthy, sustainable food choices is to encourage the shift in our collective diets toward plant-based foods. In fact, making this single decision in professional kitchens and foodservice company boardrooms would greatly advance global environmental sustainability.
To have your operation contribute to positive change for sustainability, follow The Principles of Healthy, Sustainable Menus as laid out by the Menus of Change Annual Report, an initiative of the Culinary Institute of America and the Harvard School of Public Health. These principles offer a guide to optimal menu design and innovations for future culinary development, including plant-forward culinary practices. To view the Menus of Change Annual Report, visit www.menusofchange.org.
At entegra, we work with suppliers and manufacturers who seek to create a more sustainable future through contracts that include a Supply Chain Code of Conduct and a commitment to animal welfare and sustainable sourcing programs.
Entegra Procurement Services regularly publishes blog posts on food trends and innovations in food services. Entegra is more than a group purchasing organization (GPO): Our team of procurement specialists implement strategic sourcing to bring the most value to your business. We help our clients, in many segments ranging from the healthcare supply chain to restaurant supply, to cut costs and consolidate their portfolios.