As enrollment climbs and demand for healthier food grows, foodservice directors are working hard to enhance the overall dining experience. Student foodservice continues to evolve as Gen Z and young millennials' tastes and demands differ from their predecessors. Many of these trends pose significant difficulties for foodservice directors as the changes can be costly or require major technological upgrades to infrastructure.
The K-12 system continues to grow and is expected to reach $23 billion in 2017. Efforts within K-12 are repositioning foodservice with better-for-you items for health-conscious students.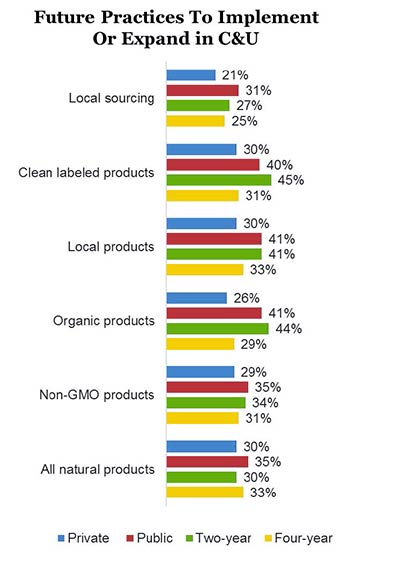 Foodservice providers are also trying to offset the additional costs of clean-label, higher-quality ingredients by using single ingredients for multiple recipes. Furthermore, the multiple versatility of a single ingredient can also reduce excessive food waste, which has been cited as another major concern of K-12 operators.
Within the C&U space, on-campus foodservice providers must compete with off-campus counterparts by offering better-for-you offerings, a variety of global dishes, convenience and technology. Technological advances, such as mobile payment, online ordering, social media and instant menu updates, allow foodservice providers to boost sales, while also increasing customer satisfaction. For example, Kent State University in Ohio has launched an online ordering service to reduce lines and wait times in its dining halls. Due to this familiarity with technology, students on campuses across the country are welcoming more opportunities to connect to their campus dining services via smartphone.
Technomic research indicates that C&U foodservice directors are looking to the future needs of students. A recent study (see sidebar) suggests that schools are focused on not only adding organic products to menus, but also local, clean-label, non-GMO and all-natural products.
Entegra Procurement Services regularly publishes blog posts on food trends and innovations in food services. Entegra is more than a group purchasing organization (GPO): Our team of procurement specialists implement strategic sourcing to bring the most value to your business. We help our clients, in many segments ranging from the healthcare supply chain to restaurant supply, to cut costs and consolidate their portfolios.