Where are you looking to take your foodservice in the future?
Chances are good that with insights into buying patterns, kitchen trends and operational efficiencies, you can make changes that will help you become more profitable.
Whether you operate a large restaurant chain or the food service in a senior living community, here are four areas where you can achieve the type of lift in margins to maximize your profits.
Retain and train staff
Streamline your operations to reduce inefficiencies and optimize staff performance. Train your staff to follow standardized procedures that minimize errors, speed up service, and ensure consistent quality. Cross-train employees so they can perform multiple roles, which can be particularly useful during peak times or staff shortages. Hiring continues to be a challenge, with labor costs continuing to grow. Solving the labor equation – quickly and cost-effectively – gives you a great shot at success.
Reduce food waste
Efficient inventory management is crucial to reducing waste and controlling costs. Implement an inventory tracking system to monitor the usage and movement of ingredients. This will help you identify trends and areas where overstocking or understocking occurs. Minimize food waste by accurately forecasting demand and rotating stock to use older ingredients first.
Drive customer foot traffic
Regularly update your menu with new and exciting dishes to give customers a reason to keep coming back. Consider offering seasonal or limited-time items that create anticipation and encourage repeat visits. Consider limited-time offers (LTOs), such as happy hour discounts, buy-one-get-one-free deals, or themed nights. Special offers create a sense of urgency and encourage people to visit your restaurant to take advantage of the deal.
Customers also respond to trending ingredients and new menu items. Entegra can introduce your staff to the latest trends through our insights to develop dishes that can bring customers through the door.
Review your menu and pricing strategy
Analyze your menu to identify high-margin and low-margin items. Focus on promoting and optimizing the high-margin items and consider revising or eliminating the low-margin ones. Use techniques like the "menu engineering matrix" to categorize items based on their popularity and profitability. Additionally, implement a strategic pricing strategy that takes into account ingredient costs, competition and perceived value by customers. Regularly review and adjust menu prices as needed.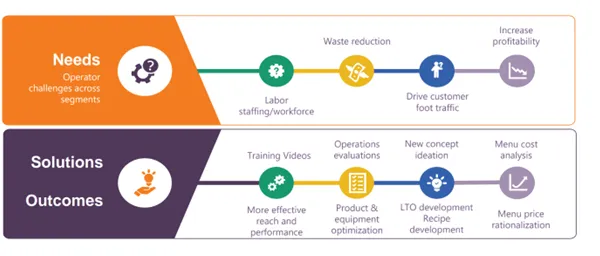 What can culinary services do for you?
The Entegra staff of culinarians includes experienced chefs, restaurateurs and marketers whose backgrounds allow them to bridge both the business and creative worlds of hospitality.
From the Entegra Performance Kitchen, the dedicated space for the culinary team to consult with food service operators, the chefs can work with your business on:
Product optimization, matching and cutting
Menu review and recipe development
Kitchen operation evaluation and optimization
Time-in-motion studies
Equipment specifications
Onsite photography and video production
Get an inside peek into the Entegra Performance Kitchen.
As the world's largest food group purchasing organization, Entegra is uniquely positioned to advise you on the tactics that work for clients. By combining a mix of these strategies and tailoring them to your operation's unique brand and target audience, you can effectively drive customer foot traffic and ensure the long-term success of your food service. Even adding convenience food items like premade sandwiches and yogurt parfaits from a Grab 'n Go program can provide additional revenue to cushion your margins.
How can we help elevate your business while helping you to save on almost all of your procurement needs?
Call us at 833-977-1765 or contact us to get more information about putting Entegra's purchasing power to work for you.